Hannibal Roof Top Tents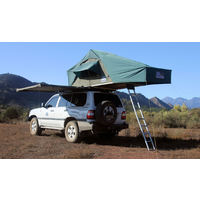 The Australian made Hannibal Safari tent range now has 5 different sizes and 4 different models.
Why should I buy a Hannibal roof top tent?
The Hannibal Safari rooftop tent range is "hand built in Australia at our very own factory" meaning we have absolute control over the build quality of our products. We don't accept second best.
The world's toughest roof top tents.
The Hannibal Safari product range is made from extremely durable materials including Australian made "Dynaproofed" canvas, foam, steel and aluminium. Our 380gsm cotton canvas is the best in the industry. All Hannibal Safari Equipment products have been specifically designed and built to handle the harsh Australian conditions
It's all to do with quality:
Hannibal roof top tents are made for use in hot climates like Australia. Their design incorporates large screened windows and doorways to encourage excellent air flow whilst providing total protection from annoying insects.

Hannibal tents are constructed on a marine ply base with stainless steel fittings and an aluminium frame for light weight and strength. Nothing will rust.

Hannibal tents are made from 380 gram Polyamide rip stop Dynaproofed cotton canvas. This quality material resists snags and tears. In the unlikely event of damage, it is easily repaired. It provides significantly greater insulation than lesser materials such as nylon. It also 'breathes' which reduces any chance of condensation.

Hannibal tents are equipped with a separate, removable flysheet that provides protection from the weather. This flysheet has its own separate ridge pole mounted above the tent to ensure air flows between the two layers providing cooling when it's hot and insulation when it's cold.

Hannibal tents come with a full 3 year warranty.

You can

be sure that in the unlikely event of a problem occurring, it will be sorted out with the minimum of fuss.

Existing owners are enthusiastic about their Hannibal tents. Just ask one of them!
So how are they Built?
The Hannibal roof top tent is renowned for being the best roof top tent in the Australian market place today. Not many people realise that just about all the Hannibal tents that you see these days are assembled in our facility in Brisbane.
"Why choose a Hannibal tent over all of the others in the market and what makes it so different from the rest?"
The answer is reasonably straight forward; Quality materials and a bit of TLC. The tent body is made in Australia with Dynaproofed canvas, the flysheet, transit cover and mattress cover are produced in the Hannibal factory in Cape Town South Africa. They are supplied in CKD (complete knock down).
The first part of the process for us is to make the baseboard. We make them with timber from local suppliers. We use a 12mm marine or external construction grade ply. The 12mm board has multiple cross branding layers of sheet which are bonded by using A-Bonded glue. This type of board and glue offers an extremely strong, stable yet resilient platform for the mounting of the tent body which will not be an issue if exposed to the elements. All of our baseboards have a stiffener board frame on the top and bottom to add even further strength to the platform. This ensures a rigid stable floor to ensure a great night's sleep. The board is coated with a product called "Prime All" which is a UV stable decking stain that will seal the timber as well as protect the board against mildew, mould and any other fungal growth.
"Why does Hannibal Safari use timber base when everyone else uses a composite board with polystyrene, capped with an ally sheet?
It's simple. Even though the Prime All does a great job at sealing the timber the board has still got some ability to be absorbent. What people don't understand is that moisture in the tent can be absorbed by the mattress. We quite often hear stories of people feeling damp in their xyz brand tents and this is the reason why.
Where does the moisture come from???? Well, every breath of air that is expelled as you breath has moisture as well as the perspiration from your skin. It's important that there are elements within the tent construction that helps you manage this condensation. The other reason we use timber comes back to ease of access to materials to repair or replace in the event of damage caused by driving into the wrong car park or tree or whatever.
The baseboards - Everything attaches from this point. We install a special aluminium extrusion that hold the two boards rigid when the tent is rigged. (we don't want our customers getting pinched when they move around the tent) A 3mm stainless steel hinge connects the two baseboards and links the baseboard to the frame and offers strength to the complete tent. This is the point where we install LED lighting if required. A webbing strap runs front to rear on the tent to pull the frame into position under the canvas when the tent is deployed.
"How much load will the tent take?".
The answer to this would be based on the vehicle and roof rack or bars that you are mounting the tent to. All vehicles have a roof loading and this is referred to as a dynamic load. In a static situation you can usually have 4 times this amount without any issues. Please check with your dealer if you are unsure.
The 380GSM ripstop Australian made Dynaproofed canvas from Wax Convert Textiles is then attached to the board by using stainless steel staples.
What about the Canvas?
Canvas has been used for centuries for protection against the harsh and unpredictable climates throughout the world. Dynaproofed™ Canvas is the preferred Australian canvas due to its uncompromising performance in one of the world's harshest environments. The Australian climate is a great test for canvas with its wide range of unforgiving weather conditions ranging from rugged dry desert conditions in the Outback, to high heat and humidity conditions of the Tropical North, to the wind and rain freezing territories of the Snowy Mountains and Tasmania.
This canvas is something else! I quite often use an example of buying the stock V8 Commodore or the HRT V8 Commodore. They both work, but one has superior performance. I don't care what the others say this WCT canvas is one huge reason why Hannibal tents work. A number of the cheaper tents use heavily coated polyurethane fabric that makes them waterproof. These types of fabrics retain the moisture which can cause other issues.
The dynaproofed canvas has a 15 year service life with "regular" use. But that's not all……The canvas has a fluro carbon coating for water resistance, UV stabilisers are used as well as rot and mildew inhibitors. Natural colour pigments are used to colour the canvas.
That last comment is really important. If people knew what chemicals can be used in the production of canvas I'm sure they would have a different feeling towards a lot of the imported canvas products that have flooded the market. One of the chemicals used in some cheaper imported canvas is "formaldehyde" If you haven't heard about formaldehyde until now, educate yourself and google it.
Australian made Dynaproofed canvas is a formaldehyde FREE canvas.
I remember the old canvas tents we used in my old boy scout days many years ago. If you touched the canvas when it rained the water would bleed through. WCT's Dynaproofed canvas doesn't have this problem. WCT use a clever process to impregnate the canvas with the waterproofing solution to make it waterproof yet still offer breathability to manage condensation inside the tent.
Here is a short video about WCT from the TV Show "What's Up Down Under".
How to set up a Hannibal Safari Roof Top Tent
GO BACK to roof top tents