About Us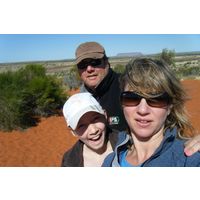 After a career in Automotive hard parts and accessories specialising in 4WD Suspension Pete Spowart started distributing South African made Hannibal Safari Equipment throughout Australia and New Zealand back in 2004.
Over the years Peter has done his share of camping and 4WD touring across Australia for work and with the family. In fact nothing makes Peter more happy than being able to travell in the outback with the family and freinds. We have a huge Country with thousands of years of history and culture. Fantastic landscapes, birds and incredible wildlife. Travelling also gave the family an opportunity to meet many different and diverse people from all walks of life.
It can be a challenge travelling in remote areas and being completely self-sufficient. We were fortunate enough to use various products, some were great and others not so much. The concept to our business was based on experience in travelling, meeting fellow travellers and understanding their experiences and to then service the best quality products that were reliable and built to last.
The best way to descibbe it is the products we use are the products well sell.
Peter and the Hannibal Safari brand were seen across the country at various Lifestyle Shows that featured 4WD's, Caravan and Camping products. People across the Country got to know us, as we built credability with our unique premium quality products. Our customers became our greatest marketing tool with rave reviews.
Over time we added additional brands to our range which include SensaTyre (Tyre Pressure Monitoring), GCI Outdoor (Camping Chairs) and Escape Gear (Canvas Seat Covers & canvas accessories). CGear's Multimat is also a popular product we stock.
When developing the business we found the need to manufacture the Hannibal roof top tent right here in Australia, allowing innovation, custom builds and ensuring as much Australian content as possible.
The Australian made Hannibal Safari tent range is more about using Australia canvas as well as many other quality Australian components to ensure a product that will ensure logevity and met the expectation of every user of our tents. Our tent range now has 5 different sizes in the canvas tent and 4 different models. South Africa made Hardshell tents are also avaiable.
Our business is more about customisation for customers who purchase our premium product. We now make products to specific sizes, add LED lighting, fit power outlets into the tents, as well as gear shelves and any other clever idea we can come up with. Although Roof Top Tents had been around for 40 years or more they were still a product that many people didn't largely know about until the leading 4WD Industry heavy weights started to market Chinese entry level products to the mass market back in the late noughties.
For many years we were known as Hannibal Safari Equipment. We realised that this was starting to become an issue for our customers because we were the sole distributor of so many brands.
Remote Travel Products was developed to give us that standalone entity that services a number of key products and as we move forward adding even more products to our range. Our business is located in Capalaba, Brisbane Australia.
Peter Spowart
Director