View All Buying Guides


Roof Top Tents
It's all to do with quality:
Hannibal roof top tents are made for use in hot climates like Australia. Their design incorporates large screened windows and doorways to encourage excellent air flow whilst providing total protection from annoying insects.
Hannibal tents are constructed on a marine ply base with stainless steel fittings and an aluminium frame for light weight and strength. Nothing will rust.
Hannibal tents are made from 380 gram Polyamide rip stop "Dynaproofed" cotton canvas made in Australia. Hannibal use Dynaproof canvas for a longer more durable life expectantcy. This quality material resists snags and tears. In the unlikely event of damage, it is easily repaired. It provides significantly greater insulation than lesser materials such as nylon. It also 'breathes' which reduces any chance of condensation.
Hannibal tents are equipped with a separate, removable flysheet that provides protection from the weather. This flysheet has its own separate ridge pole mounted above the tent to ensure air flows between the two layers providing cooling when it'd hot and insulation when it's cold.
Hannibal tents come with a full 3 year warranty. You can be sure that in the unlikely event of a problem occurring, it will be sorted out with the minimum of fuss.
Existing owners are enthusiastic about their Hannibal tents. Just ask one of them!
So how are they Built?
The Hannibal roof top tent is renowned for being the best roof top tent in the Australian market place today. Not many people realise that just about all the Hannibal tents that you see these days are assembled in our facility in Brisbane.
"Why choose a Hannibal tent over all of the others in the market and what makes it so different from the rest?"
The answer is reasonably straight forward; Quality materials and a bit of TLC. The tent body is made in Australia with Dynaproofed canvas, the flysheet, transit cover and mattress cover are produced in the Hannibal factory in Cape Town South Africa. They are supplied in CKD (complete knock down).
The first part of the process for us is to make the baseboard. We make them with timber from local suppliers. We use a 12mm marine or external construction grade ply. The 12mm board has multiple cross branding layers of sheet which are bonded by using A-Bonded glue. This type of board and glue offers an extremely strong, stable yet resilient platform for the mounting of the tent body which will not be an issue if exposed to the elements. All of our baseboards have a stiffener board frame on the top and bottom to add even further strength to the platform. This ensures a rigid stable floor to ensure a great night's sleep. The board is coated with a product called Prime All which is a UV stable decking stain that will seal the timber as well as protect the board against mildew, mould and any other fungal growth.
"Why does Hannibal Safari use timber base when everyone else uses a composite board with polystyrene, capped with an ally sheet?
It's simple. Even though the Prime All does a great job at sealing the timber the board has still got some ability to be absorbent. What people don't understand is that moisture in the tent can be absorbed by the mattress. We quite often hear stories of people feeling damp in their xyz brand tents and this is the reason why.
Where does the moisture come from???? Well, every breath of air that is expelled as you breath has moisture as well as the perspiration from your skin. It's important that there are elements within the tent construction that helps you manage this condensation. The other reason we use timber comes back to ease of access to materials to repair or replace in the event of damage caused by driving into the wrong car park or tree or whatever.
The baseboards - Everything attaches from this point. We install a special aluminium extrusion that hold the two boards rigid when the tent is rigged. (we don't want our customers getting pinched when they move around the tent) A 3mm stainless steel hinge connects the two baseboards and links the baseboard to the frame and offers strength to the complete tent. This is the point where we install LED lighting if required. A webbing strap runs front to rear on the tent to pull the frame into position under the canvas when the tent is deployed.
"How much load will the tent take?".
The answer to this would be based on the vehicle and roof rack or bars that you are mounting the tent to. All vehicles have a roof loading and this is referred to as a dynamic load. In a static situation you can usually have 4 times this amount without any issues. Please check with your dealer if you are unsure.
The 380GSM ripstop Australian made Dynaproofed canvas from Wax Convert Textiles is then attached to the board by using stainless steel staples.
This canvas is something else! I quite often use an example of buying the stock V8 Commodore or the HRT V8 Commodore. They both work, but one has superior performance. I don't care what the others say this WCT canvas is one huge reason why Hannibal tents work. A number of the cheaper tents use heavily coated polyurethane fabric that makes them waterproof. These types of fabrics retain the moisture which can cause other issues.
The dynaproofed canvas has a 15 year service life with "regular" use. But that's not all……The canvas has a fluro carbon coating for water resistance, UV stabilisers are used as well as rot and mildew inhibitors. Natural colour pigments are used to colour the canvas.
That last comment is really important. If people knew what chemicals can be used in the production of canvas I'm sure they would have a different feeling towards a lot of the imported canvas products that have flooded the market. One of the chemicals used in some cheaper imported canvas is "formaldehyde" If you haven't heard about formaldehyde until now, educate yourself and google it.
Australian made Dynaproofed canvas is a formaldehyde FREE canvas.
I remember the old canvas tents we used in my old boy scout days many years ago. If you touched the canvas when it rained the water would bleed through. WCT's Dynaproofed canvas doesn't have this problem. WCT use a clever process to impregnate the canvas with the waterproofing solution to make it waterproof yet still offer breathability to manage condensation inside the tent.
Here is a short video about WCT from the TV Show "What's Up Down Under".
Freestanding Awnings
The Hannibal Safari product range is made from extremely durable materials including Australian made canvas, steel and aluminium. Hannibals 380gsm cotton Canvas is the best in the industry
Hannibal Awnings have no posts, pegs or ropes to trip over or bump into. Awnings provide shade, comfort, and protection against the elements when camping.
Special importance has been given to the design of the structure to ensure strong mounting to guarantee that the awning stays stable when the wind blows.
Speed and ease of setup is of paramount importance to enable usage while en-route, e.g. for a quick stop at lunchtime. A single wall or 3 wall kit to suit the awning is available as well as lighting to ensure you maximise the use of your awning.
The Awning is avaiable in 3 sizes: 1.4m wide x 1.3m (Defender rear), 1.9m wide x 1.7m and 2.4m wide x 2m. LED lighting can also be supplied using two strips of 50cm LED. Single walls and full wall kits are also available.
Roof Racks
Hannibal Roof Racks are TUFF enough to survive the HARSH STUFF!!!
Reliability and weight are key factors when considering an ideal roof rack. Hannibal roof racks have proven over the years to be of the strongest, lightest and most rugged safari proven roof racks in the world.
The design of the Hannibal roof rack also incorporates good looks with aerodynamic performance for minimum wind noise and maximum fuel efficiency.
The Hannibal roof racks are designed to fit all makes of 4×4's, those with gutters as well as the gutterless varieties.
Hannibal Roof Rack Features
Slimline design for better fuel efficiency and less wind resistance.
Uniquely engineered flooring to provide extreme strength and minimum flexibility.
Front to rear floor slat layout to increase aerodynamics and minimize wind noise.
Wide floor slats for easy loading, standing or to serve as a front porch for your Hannibal rooftop tent.
Tie down bolts provided.
Detachable rails for wider loads, side-mounting of tents or improved vertical clearance.
High quality 6063 architectural aluminum designed for strength and corrosion resistance.
Fully welded frame and tray for maximum strength and reliability.
Stainless steel mounting clamps or brackets.
Full length gutter support to spread load and prevent unnecessary wear and tear to gutters (gutter models).
Shock absorbing rubber pads.
Hannibal racks are designed with a low profile to hug the roof line and to keep a low centre of gravity for a more stable off road and on road experience.
Racks are supplied in Natural finish. Powder coating is available upon request.
Lifetime Guarantee against manufacturing defects.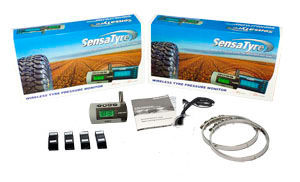 SensaTyre - Wireless Tyre Pressure Monitor
Safety - Incorrect tyre pressure can compromise the stabillity of a vehecle, it's handling and braking, and in extreme cases, could contribute to an accident. Proper inflation protects and saves the tyre casing, reducing the chance of blowouts and zipper rips. Rubber manufacturers association stated that the leading cause of tyre failure is under inflation (which reduces tread life and generates excessive heat due to increased flexing.) SensaTyre will detect leakage before harm is done.
The economic benifits - Under inflation will reduce tread life and increase fuel consumption. It can also lead to sudden tyre failure. Without air, the sides of a tyre bend and flex too much. This builds up heat, which can cause serious damage. Properly inflated and maintained tyres save costly roadside repairs and downtime.
Wheel Protection - Tyre pressure monitoring protects against damage to expensive tyres and wheels. Assists in preventing dangerous debris on the road from worn and unsafe tyres and castings. Proper inflation prevents irregular tread wear and dangerous conditions that can lead to accidents. SensaTyre provides peace of mind.
Its Convenient - Full time monitoring means you can check your tyre pressures from the safety and comfort of the drivers seat.
Sensatyre comes in a range of kits to suit all needs. Kits are available for low and high pressure applications to suit motor bikes, passenger cars, 4WD's, Caravans and trailers, Prime Movers and Motorhomes.
Watch 4x4 Australia test & tourture SensaTyre in the Outback
Tyres
Custom Made Seat Covers
100% cotton seat covers are made from heavy duty 510g fabric, and are custom fit/vehicle specific. This means they fit snugly around your upholstry, and the fabric doesn't bunch when you climb in and out of your vehicle.
Our cotton canvas seat covers are cool and comfortable, especially during long distance driving in summer heat. They are water repellent which means spilt liquids won't seep through.
They really protect your seats, and when you take them off, your original upholstry will still be in showroom condition!
Water resistant custom-fit polycotton Tuff Canvas
Tuff Canvas is the latest, specially formulated synthetic fabric, with exceptionally good technical features. It is dimensionally stable, tough, water and abrasion resistant. Tuff Canvas is eminently suitable for rugged applications - such as vehicles involved in building/road construction, mining, forestry, commercial fishing and water sport. They also really protect your original seat upholstery from harsh and aggressive conditions, and keeps vehicle interiors in tip-top condition. We offer Tuff Canvas in colour grey only.
can be expensive, prevent costly tyre damage and roadside repairs with the user-friendly tyre monitoring system from SensaTyre.
With SensaTyre you can monitor your tyre pressure and temperature all from within the comfor